Ivanhoe Slot By Elk Studios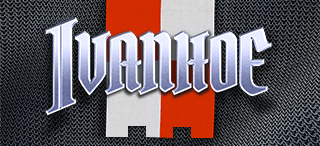 ELK Studios is taking the mobile casino experience to the next level in this retro-styled slot themed with the classic drama by sir Walter Scott.
Ivanhoe is a volatile slot that combines the layout of a classic slot machine and innovative features worthy of a top-class online slot.
The combination of high line winnings and a rich bonus game makes this a slot worth coming back to again and again.
Return of the King!
The story goes… King Richard the Lionheart is on his way home after a crusade in the Holy Land but gets captured in Austria.
In the meantime, his brother Prince John claims the right to the throne.
Prince John keeps the town in a tight grip together with his loyal Norman knights, Bois-Guilbert and Front-de-Boeuf.
Ivanhoe decides to stand by King Richard the Lionheart and fights for him with the ultimate goal to get him back on the throne.
It is a rough journey and Ivanhoe comes across challenge after challenge but determined as he is he never gives up.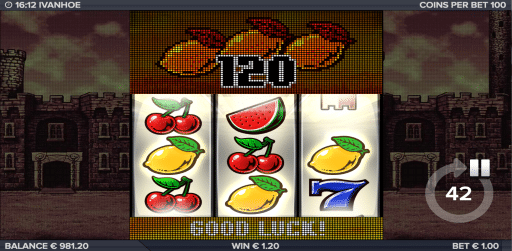 Follow the story of Ivanhoe
In the bonus game, Ivanhoe takes the player on an exciting journey through a chain of different challenges in the purpose to recapture the crown to Richard the Lionheart.
The knight needs abilities such as courage, strength, cunning, and of course a good portion of luck in his attempts to defeat Prince John and his men.
All the visual action in the bonus games takes place in the dot matrix but it is driven by the winnings on the connected reels.
It is intriguing to keep an eye on the progress bar, with the fingers crossed, hoping for a win big enough to take you to the next level, and towards even more rewarding multipliers.
Ivanhoe Slot features
Ivanhoe is an innovative 3 reels slot designed for Mobile First providing an exceptional one-handed gaming experience.
It comes with a mix of traditional slot symbols, free spins, and a modern dot matrix accompanied by retro-styled sound effects.
There are 17 ways to win and there is a chance to win up to 3000 times your bet.
With a perfect hit in normal mode, the player can win up to 510 times the bet in a single spin! Gear up for a historical adventure!
Ivanhoe bonus game
The Ivanhoe Bonus Game consists of five different levels with increasing multipliers.
The variety of challenges provides additional depth in gameplay and storytelling.
Every level has a set number of coins to be won in order to progress to the next level which will award more free spins and additional multipliers.
Hitting the fixed level up limit will immediate take the player to the next level and towards even more rewarding multipliers.
Remaining free spins are brought to the next level which increases the chances to win more.
The Ivanhoe bonus game is triggered by three bonus symbols on a pay line.

ELK Studios
ELK is a small innovative casino game studio placed in the heart of Stockholm. They develop casino and lottery games with a focus on new devices.
Currently, all of their games are developed for Mobile First! All of their games are of course also available on desktop and tablets.
Their games are developed and compiled in Sweden, and they use well-known test centers such as Trisigma, Nmi, and Gaming Associates to certify them.
Once released, all games are operated by partners or operators who hold the license in each market.
Ivanhoe Slot Ratings
Game Design / Graphics:

Win Potential:

Fun Factor:

Music / Sounds:

Understandability: