Casino Live Stream by Jarttu84 at Twitch.tv!
Who is Jarttu84?
Jarttu84 Is a Twitch Casino Streamer based in Estonia and originally from Finland who is known for his high-stakes gambling streams and videos.
Sometimes he streams other games, for example, Rust, Path Of Exile, Pubg, Starcraft II, League Of Legends, Call of Duty: Modern Warfare, Diablo III, and, Poker.
Jarttu84 has been streaming since 2015 and he is a Twitch Partner as well.
During the Live Casino Streams, there are often competitions and giveaways going on where viewers can win cash.
and during Bonushunts there is the guessing competition where viewers can guess how much Jarttu gets from the bonuses and every time someone will win 50-500€ cash money.
Latest Jarttu84 Big Win Videos On Vimeo!

Jarttu84 Vimeo
Want to see all of my latest Big win videos?
Check them out from my Vimeo Channel!
Vimeo is a professional video sharing platform!
And for viewers it's free to use!
Live Casino Streaming
Live casino streams are a fairly new thing just being around a few years mainly on Twitch.tv and YouTube platforms.
The Twitch Casino streams have gained popularity and during the last 365days,
there has been an avg 12000viewers at any time in slots category at Twitch.tv.
Casino and gambling live streaming is a good way for viewers to get their excitement about gambling without them needing to gamble themself.
As a result, they can enjoy and have the thrill by watching their favorite streamers trying to get the wins instead.
Live Casino streams are also a great way for people to see and game providers to introduce their latest games and for
Casinos to show off their sites, offer, and bonuses to the audience.
Giveaways
During the casino streams at least here on Jarttu84 when Jarttu wins big viewers can also win!
Jarttu has kept hundreds of giveaways during his streaming career!
From occasional 10€ Paysafecards that are given randomly to trips worth of tens of thousands to Las Vegas!
Therefore, Watch, participate, and get rewarded!
Bonushunt®
Bonushunt term was introduced by Jarttu several years back and now days he owns the trademark for it as well.
The concept is that Jarttu plays a slot and if he gets the bonus he will save it, and at some point, all bonuses are being played in a row during the same stream.
Also, viewers get to guess how much Jarttu will get from the bonushunt® at the forum. And the closest guess will also, win money.
Bonushunts are really popular since during the bonus opening the action is endless and a big win can hit at any point.
Group Deposits!
Group Deposits are a fun way for the viewers to participate in the action that is happening on the stream!
How it works is that there is a group made for a specific stream and everyone can deposit to the group.
The games are played during the stream by Jarttu and when the planned threshold is met Jarttu will take a cashout!
Everybody will get their part based on the % amount they participated in the group.
Usually, there are also added prized on the group. For instance, added cash or, free spins that will be raffled within the participants.
You can find all the active new groups, past groups and also highlights from the group deposit dedicated site!
New groups are also anounced on the Jarttu84 Forum
Earn Rewards by watching the live-stream!
Jarttu84 has brought the reward points back to the live stream!
Every 10minutes you watch the stream you get 1 point.
The points can be exchanged for rewards in the store.
What are the rewards then?
All kinds of fun merchandise from casinos, game providers and from Jarttu84!
Sometimes there might be even cash or deposit bonuses to casinos available to redeem!
Hello Youtube!

You might have heard the term "Hello Youtube" that has spread around the internet like wildfire!
Did you know that the term "Hello Youtube" upon a big slot win was introduced by Jarttu back several years ago?
It's not uncommon to read from the twitch chat messages about "This is the best casino stream" or "This is the best community around".
Jarttu84 Youtube Channel
Interaction
What is more, fun than having interaction with the Streamer and the audience in exciting ways?
Here at Jarttu84, we have many occasions where viewers have a chance to decide about the broadcast content by choosing games that Jarttu plays.
For Example, the SubSunday where Twitch channel subscribers decide games that Jarttu will play, and if he wins on those games, the game picker also wins money.
Also, sometimes there have been slots tournaments and other stuff where the audience has had a chance to interact with the streaming content.
Fake Money Streamers
Lately, there have been more and more "fake money streamers" around twitch and they are attracting more and more viewers.
If the viewers would know that the streamer does not have anything invested in the game most likely, they wouldn't watch that channel.
Fake money streamers get bonuses from casinos that look like real money balance but they cannot cash out any of that money.
It also gives the viewers a false sense of the risks of gambling and therefore, it's not advisable to support persons who are doing it.
Unfortunately, many Casinos are also backing up the fake money streamers in these cases since they get "free advertisement" without them needing to take a risk giving away real deposit bonuses that the streamer could sometimes win with.
Is Jarttu84 Fake Money Streamer?
In short, NO!
Jarttu does not support any fake money streaming and all the deposit bonuses he uses on streams are mentioned on the Stream.
If on some rare occasions there is some sort of drawback on the bonus, for example, cashout cap it also will be told in the stream.
How do you know if someone is a Fake Money Streamer?
Usually, it is fairly hard for a viewer to see if someone is using this "fake money" instead of their own.
As explained above the money that they use to play the games has the only difference that when they cash it out it just leaves from their balance but the money never arrives in their bank account.
But, there are a couple of ways how someone can prove that they are real
1. Proof that the cashout they took arrived in their bank account.
2. Show live feed of the bank account transaction that the cashout has arrived.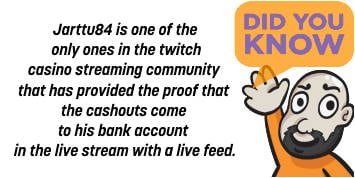 There are some false assumptions about prooving that someone is playing with their own money and here are the most common ones.+
"But the streamer took cash out it must be real?"
Wrong. It doesn't prove anything if they click cashout in the Casino
"Streamer showed me a picture where the money is in the account so it must be real"
Wrong. Pictures are really easy to manipulate to make them look real.
"But the streamer plays on well-known casino with mga license so it must be real"
Wrong. Unfortunately, even some of the big-name casinos are offering this fake money for the streamers
"But this streamer has so many viewers it must be real"
Wrong. There are some big streamers out there that are using fake money in co-operation with the casino
So let's all be real and not support casinos or streamers that are lying to their viewers and are using the fake money!
Happy Viewing!