Birthday Slot By Elk Studios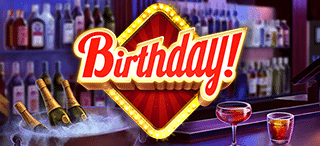 Every day is someone's birthday!
It's all about Happy Spins
There is always something to celebrate. Every day is someone's birthday! Maybe a new goal has been achieved.
Or simply the fact that it's just a great day. What can be better than throwing a party full of surprises with dear friends and family?
So here they are, all gathered and ready to share a happy experience.
Birthday! is a 5 reel slot designed for Mobile First.
It mixes the urban feeling of a classy New York bar with familiar guest stars from previous ELK Studios' games.
The party is about to take off and more and more guests arrive. Every new guest is announced with the sound of the doorbell ringing.
Surprise gifts in the form of Happy Spins respins and Free Spins, together with Walking and Sticky Wilds, are generously handed out during both the base game and the Free Spins bonus game.
Connecting paylines generate 178 ways to win and a chance to win up to 250,000 coins.
Happy Birthday!
Happy Spins
The Happy Spins are five different types of randomly triggered respins. The doorbell announces the start of every Happy Spins feature and generates excitement about who the next guest will be and what particular feature he or she brings along
Spin until a given number of wins
The Camel gifts a respin that continues until a given number of wins (3 to 5) is achieved.
Spin until 5 of a kind
Mr. Lake's respin gift continues until a win with 5 of a kind is achieved on a pay line.
Electrified symbol
Electric Sam gifts a respin that continues as long as additional instances of a preselected symbol appear. The selected symbols get electrified and stay sticky throughout the respin.
Spin until a given win
The sneaky Matador selects a symbol and gifts a respin that continues until a win with the selected symbol is achieved.
Spin until a Big Win
Anne Bonny, the notorious pirate from Wild Seas, hands over a valuable respin gift that continues until a Big Win (15 x bet or higher) is achieved.
Free Spins on Birthday Slot
Our cheerful little Maggie generously hands out 10 free spins whenever she rings the doorbell and joins the party. She can retrigger within the free spins generating a long chain of free spins and numerous chances to win.
Wilds on Birthday Slot
The Soundtech Blooper randomly joins the party during Happy Spins or the Free spins bonus game. He hands out different kinds of wilds
Sticky Wilds
The Soundtech may place up to three Sticky Wilds anywhere on the reels. All the wilds stay sticky during the remaining respins or free spins.
Walking Wilds
The Soundtech Blooper hands out up to three Walking Wilds anywhere on the reels. The Walking Wild move leftwards one reel for every spin until they leave the screen to the left

ELK Studios
ELK is a small innovative casino game studio placed in the heart of Stockholm. They develop casino and lottery games with a focus on new devices.
Currently, all of their games are developed for Mobile First! All of their games are of course also available on desktop and tablets.
Their games are developed and compiled in Sweden, and they use well-known test centers such as Trisigma, Nmi, and Gaming Associates to certify them.
Once released, all games are operated by partners or operators who hold the license in each market.
Birthday Slot Ratings
Game Design / Graphics:

Win Potential:

Fun Factor:

Music / Sounds:

Understandability: