By the orders of Peaky Blinders – presented by Pragmatic Play

Melissa Summerfield, chief commercial officer at Pragmatic Play noted that the developer's recent slot title has 'colossal potential' within the slot market due to the show's worldwide success.
Taking a step into the world of branded slot titles, Pragmatic Play's Peaky Blinders is the first game out of its portfolio of more than 200 HTML slots to be branded after partnering with Endemol Shine collaborating with the brand owner and producer Caryn Mandabach Productions.
SlotBeats spoke to Summerfield following the launch of the supplier's first branded titles and what makes a branded slot game so appealing for providers.

Interview with Melissa Summerfield
SlotBeats: Why has now been decided as the right time to take the step into branded slots?
Melissa Summerfield: Pragmatic Play's slots portfolio contains more than 200 HTML slots, some of which are designed for traditional slot enthusiasts, while others are dynamic video slots which appeal to a newer generation of players.
On top of that, we have a huge diversity in our titles, from Megaways to Deluxe games. However, branded slots offer something completely unique and provide us with another route to capturing a new audience.
Slots inspired by beloved TV franchises, movies, or games will keep the players fascinated with our content, immersing players into a world which they are already familiar with while promoting engagement and keeping the slot on our operator partners' main landing pages.
SB: What opportunities do they offer yourselves as opposed to past, more traditional, releases?
MS: Branded slots are instantly recognizable and transport players directly into a world they are already familiar with. Fans of Peaky Blinders will need no introduction to the characters that we've incorporated into our new release, and we know the show has a strong fanbase which should drive interest in the slot significantly.
We're hopeful that it will be appealing to fans of the show who have not played slots before, along with existing players. It's a positive step forward in our product development roadmap that gives operators and players a greater choice when it comes to Pragmatic Play games.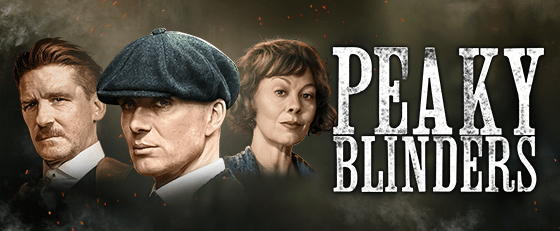 Features of Peaky Blinders
SB: What hallmarks of past Pragmatic Play titles can we expect from the title?
MS: The game is packed with features and modifiers that our fans are already familiar with, which can land on any spins. With the "By Order Of The Peaky Blinders" modifier, all Character and Wild symbols remain sticky on the reels, before activating a Respin. They will then transform into a singular random character, triggering huge payouts, something which, in a similar format, has been a hit in a number of our titles.
The Shelby Betting Shop bonus can also land on any spin, giving cash values for all Character symbols, before paying out lucrative sums, something Pragmatic Play slot fans across the world will be familiar with.

Both Free Spins modes are triggered when the Peaky Blinders Bonus symbol lands on reels one and three, before either of the modifier symbols lands on the fifth reel. The modifier will determine which Free Spins mode the player gets, with the modified features lasting for the entirety of the Bonus Round.

By combining classic features that are much loved by our fans with a fantastic theme, we can give players a more immersive experience than ever before.
Expectations of Peaky Blinders Slot?
SB: Why were Peaky Blinders chosen as the entry point into branded slots? What are your expectations for the title?
MS: Peaky Blinders is a hugely successful and award-winning TV series and is a strong brand that has a colossal potential within the slots sector given the show's theme. It gained millions of fans across the globe who became fascinated with the actions of the Peaky Blinders, so we thought it would be a great starting point as it already has such a strong fan base.
The show continues to go from strength to strength and we expect to attract slot fans from a wider demographic than ever before, as well as see huge engagement levels, especially as series six has just been confirmed for renewal, so once again the Peaky Blinders will be at the forefront of the public's mind.
SB: Can we expect this to be the first of many branded slots for yourselves?
MS: Branded slots are hugely appreciated all over the world and they give a fantastic opportunity to attract new fans who have an interest in the brand being represented. The initial launch has seen the game retain a stickiness at the top of plenty of our partner's landing pages, and we will continue to learn from the development process.
Creating more branded slots is definitely a focus for Pragmatic Play, but it is a very difficult road to take as most of the branded slots have not worked.
Watch the Peaky Blinders Slot info video by Pragmatic Play:
https://youtu.be/ghf9zkRhnNM
Source Slotbeats